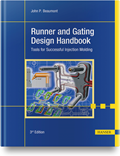 Runner and Gating Design Handbook
Tools for Successful Injection Molding

3. Auflage. 10/2019
470 Seiten. Fester Einband
In full color
Buch: € 179,99
Buch kaufen ISBN: 978-1-56990-590-6
E-Book (PDF): € 139,99
E-Book kaufen
ISBN: 978-1-56990-591-3
The first book to shed light on the critical role the melt delivery system plays in successful injection molding has received a major update in its 3rd edition. This successful book will give you an immediate leg up by reducing mold commissioning times, increasing productivity, improving customer satisfaction, and achieving quality goals such as Six Sigma.

How do you determine the optimum design of your runners and gates; what type of runner system (hot or cold variations) do you use for a specific application; how do you identify molding problems generated by the gate and runner vs. those stemming from other molding issues; what should you consider when selecting a gating location? The "Runner and Gate Design Handbook" will give you the means to get to the bottom of these issues as well as provide specific guidelines for process optimization and troubleshooting.

Highlights among the numerous new updates include coverage and analyses of critical shear induced melt variations that are developed in the runners of all injection molds, expanded content on hot runners, and a new subchapter on injection molding process development.
John Beaumont is President and CEO at Beaumont Technologies and the American Injection Molding Institute (AIM). He is also professor emeritus at the Plastics Engineering Technology program at Penn State Erie, The Behrend College. He has co-authored several books published by Hanser, and owns several patents in the industry. He is also the founder of the Penn State Erie Plastics CAE Center, and was the chairperson for the Injection Molding Division of SPE from 1998-1999.

Prof. Beaumont has years of industrial experience in mold design and was previously a Technical Manager for Moldflow North America.
Empfehlungen der Redaktion:

This is an introductory textbook on polymer science aimed at lecturers/professors, undergraduate and graduate students of polymer science and ... Mehr
Buch kaufen · E-Book (PDF) kaufen € 89,99
12/2019
The author presents single-screw extrusion technology together with the relevant polymer fundamentals, with an emphasis on screw design. The ... Mehr
Buch kaufen · E-Book (PDF) kaufen € 149,99
10/2019

Understanding of polymer interactions is important for effective processing of plastics and their blends, mixing with nanoparticles, and ... Mehr
Buch kaufen · E-Book (PDF) kaufen € 179,99
10/2019