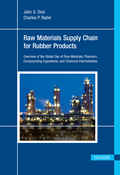 Raw Materials Supply Chain for Rubber Products
Overview of the Global Use of Raw Materials, Polymers, Compounding Ingredients, and Chemical Intermediates

08/2014
600 Seiten. Fester Einband

Buch: € 179,99
Buch kaufen ISBN: 978-1-56990-537-1
E-Book (PDF): € 149,99
E-Book kaufen
ISBN: 978-1-56990-538-8
This book provides a current overview of the chemical supply chain for the global rubber industry. It also reviews the present and future international changes and their effects on this chemical supply chain for rubber producers, compounding ingredient manufacturers, custom mixers, rubber fabricators, molders, extruders and others.
The reader will be enabled to understand the chemical connectivity of rubber compounding materials to their chemical feedstocks. The reader should also be able to directly link new commercial changes in 175 commonly used chemical feedstocks to hundreds of different rubber compounding ingredients and polymers.
John Dick has over 40 years of experience in the rubber industry. He was with BF Goodrich and later Uniroyal Goodrich Tire Co. as a section manager and development scientist in R & D until 1991, when he joined Monsanto's Rubber Instruments Group (now Alpha Technologies) as a senior scientist, applications. He also teaches 10 rubber technology courses at The University of Akron and University of Wisconsin continuing education department.
Mr. Dick has authored over 80 journal and magazine publications, including five books on rubber technology, which include "How to Improve Rubber Compounds" and "Rubber Technology" from Hanser Publications. He has consulted, presented technical papers, or given seminars in over 38 countries. Some of Mr. Dick's publications have been translated into eight languages.

Charles P. Rader is a well-known consultant in the areas of rubber technology and thermoplastic elastomers (TPEs), fields in which he has been active for the past five decades. A rubber compounder and chemist by background, Dr. Rader served Advanced Elastomer Systems, L. P. (AES) and Monsanto, an original co-owner of AES, for 40 years in a broad variety of research, marketing, and management positions. He was a key member of the team that commercialized Santoprene thermoplastic rubber.
Dr. Rader has written and lectured extensively on the topics of rubber and TPEs throughout the world, with more than 260 books, book chapters, technical papers, journal articles, and public presentations. A graduate of the University of Tennessee (B. S. in Chemistry, M. S., Ph. D.), Dr. Rader has publications and patents in the areas of physical chemistry, organic chemistry, food technology, rubber technology, and thermoplastic elastomers.
Weitere Titel:

"Practical Rubber Rheology and Dynamic Properties" provides a unique overview of rubber rheology from a practical perspective. Written by expert ... Mehr
Buch vorbestellen € 129,99
03/2021

Rubber compounding is a very complex endeavor. There are many interactions and many ways to achieve the target properties and economic goals ... Mehr
Buch kaufen · E-Book (PDF) kaufen € 179,99
01/2014