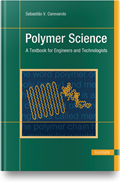 Polymer Science
A Textbook for Engineers and Technologists

Erscheint 12/2019
400 Seiten. Fester Einband
Sw
Buch: € 89,99
Buch vorbestellen ISBN: 978-1-56990-725-2
E-Book (PDF): € 69,99
Erscheint auch als E-Book ISBN: 978-1-56990-726-9
This is an introductory textbook on polymer science aimed at lecturers/professors, undergraduate and graduate students of polymer science and technology courses as well as engineering (materials, chemical, civil, food, etc.), chemistry, and physics. It is also aimed at engineers and technologists.

Each chapter is written starting from simple concepts and progressively getting more complex towards its end, to help the reader decide how deep to go into each topic. Each chapter also presents the solution of many proposed problems, guiding the reader to solve numerically the everyday problems polymer technologists face, by applying theoretical concepts. Additionally, at every chapter's end there is a list of problems for the reader to check his/her understanding of the topics.

The book contains a list of more than 10 experiments to perform in the laboratory, linked to some of the concepts discussed in the book. It also serves as a long-term reference with many figures, diagrams, tables, chemical equations containing frequently needed information. It contains as well an appendix with a long list of chemical structures of the main commercially available polymers.
Sebastião Canevarolo is a full professor at the Federal University of São Carlos (UFSCar), Brazil since 2015. He obtained his Ph.D. at the Institute of Polymer Technology of the Loughborough University of Technology, England, and, after completing a postdoctoral program at the Dipartimento di Ingegneria Chimica e Alimentare of the University of Salerno, he became a researcher fellow of the CNPq (Brazilian National Council for Scientific and Technological Development).
Als Dozent können Sie diesen Titel über das Hanser Dozentenportal als kostenloses Prüfexemplar bestellen, sich gezielt über unser umfassendes Lehrbuch-Angebot informieren und erhalten Zugriff auf exklusive Zusatzmaterialien zu unseren Lehrbüchern.
Zum Hanser Dozentenportal
Empfehlungen der Redaktion:

Understanding of polymer interactions is important for effective processing of plastics and their blends, mixing with nanoparticles, and ... Mehr
Buch kaufen · E-Book (PDF) kaufen € 179,99
10/2019

Recent advances in polymer science have made it possible to relate quantitatively molecular structure to rheological behavior. At the same time, ... Mehr
E-Book (ePUB) kaufen € 199,99
10/2019

The first book to shed light on the critical role the melt delivery system plays in successful injection molding has received a major update in ... Mehr
Buch kaufen · E-Book (PDF) kaufen € 179,99
10/2019