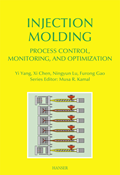 Injection Molding Process Control, Monitoring, and Optimization

08/2016
413 Seiten.

E-Book (PDF): € 139,99
E-Book kaufen
ISBN: 978-1-56990-593-7
Improvement of injection molding processes remains a topic of great interest in both industry and research institutions. This book introduces the analysis of the molding process from a systems technology point of view.

It is divided into four parts: the first part provides general background to introduce the injection molding process, the second covers the control of the process, the third is on the monitoring technology, and the fourth is concerned with the optimization of the process. Most the results within are from real engineering implementations and experimental tests.
Dr. Furong Gao received his B.Eng. degree in Automation from the East China Institute of Petroleum in 1985 and M.Eng. and Ph.D. degrees in Chemical Engineering from McGill University, Canada, in 1989 and 1993, respectively. Currently, he is a Chair Professor of Chemical and Biomolecular Engineering at the Hong Kong University of Science and Technology (HKUST), and a "State Thousand Talents (B)" Professor at the Department of Control Science and Engineering, Zhejaing University, China. Concurrent to his professorial appointment, he serves HKUST also as the Associate Dean of Fok Ying Tung Graduate School, and the Director of the Division of Advanced Manufacturing and Automation.

Professional Affiliations:

Fellow, Society of Plastics Engineers
Consultant, Hong Kong Plastics Machinery Association
Funding Director, Society of Advanced Molding Technology
Member, International Federation of Automatic Control (IFAC) Technical Committee
Associate Editor, Journal of Process Control
Editorial Advisor, Industrial & Engineering Chemistry Research
Engineering Subject Editor, Arabian Journal of Engineering and Science
Editorial Member, China Plastics
Editorial Member, Control & Decision
Weitere Titel:

Improvement of injection molding processes remains a topic of great interest in both industry and research institutions. This book introduces the ... Mehr
Buch kaufen · E-Book (ePUB) kaufen € 180,00
08/2016