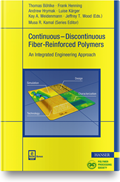 Continuous–Discontinuous Fiber-Reinforced Polymers
An Integrated Engineering Approach
Herausgegeben von Thomas Böhlke, Frank Henning, Andrew N. Hrymak, Luise Kärger, Kay Weidenmann, Jeffrey T. Wood

Erscheint 09/2019
448 Seiten. Fester Einband

Buch: € 169,00
Extra: E-Book inside Buch vorbestellen ISBN: 978-1-56990-692-7
E-Book (PDF): € 139,99
E-Book kaufen
ISBN: 978-1-56990-693-4
Discontinuous long fiber reinforced polymer structures with local continuous fiber reinforcements represent an important class of lightweight materials with broad design possibilities and diverse technical applications, e.g. in vehicle construction. However, in contrast to continuous fiber reinforced composites, extensively used in the aircraft industry, there is still a lack of integrated and experimentally proven concepts for manufacture, modeling, and dimensioning of combinations of discontinuously and continuously reinforced polymer structures. This is partly ascribed to the complexity of the manufacturing processes of discontinuously reinforced polymers, with heterogeneous, anisotropic, and nonlinear material and structural properties, but also to the resulting bonding problem of both material types.

This book addresses these issues, including both continuous and discontinuous fiber processing strategies. Specific design strategies for advanced composite reinforcement strategies are provided, with an integrated and holistic approach taken for composites material selection, product design, and mechanical properties. Characterization, simulation, technology, design, future research, and implementation directions are also included.

Especially in the field of application of three-dimensional load-bearing structures, this book provides an excellent foundation for the enhancement of scientific methods and the education of engineers who need an interdisciplinary understanding of process and material techniques, as well as simulation and product development methods.
Thomas Böhlke is Professor and Chair of Continuum Mechanics at the Karlsruhe Institute of Technology (KIT), Germany. He previously held professorial positions at the University of Kassel and at the Otto-von-Guericke-University, Magdeburg, Germany.

Frank Henning is Head of the Department of Polymer Engineering at the Fraunhofer Institute for Chemical Technology in Pfinztal, Germany. He is also Professor for Lightweight Construction at the Karlsruhe Institute of Technology (KIT) and Adjunct Research Professor at the University of Western Ontario (UWO), Canada.

Andrew Hrymak is Professor and Dean at the Faculty of Engineering University of Western Ontario (UWO). He was previously Professor and Department Chair at the Department of Chemical Engineering at McMaster University, Hamilton, Canada.

Jeffrey T. Wood is Associate Professor in the Mechanical & Materials Engineering department of the University of Western Ontario (UWO). He holds a Ph.D. in Materials Science from McMaster University.
Empfehlungen der Redaktion:

Many technical books about plastics are too theoretical and difficult to read. The intention of this book is to offer something completely ... Mehr
Buch kaufen · E-Book (PDF) kaufen € 39,90
07/2019

Understanding the elastic properties of polymer melts is necessary for ensuring successful polymer processing and thus producing high-quality ... Mehr
Buch kaufen · E-Book (PDF) kaufen € 179,00
07/2019

Dieser nützliche Leitfaden bietet einen praktischen Ansatz zur Herstellung von Carbon-Fasern und ihren Verbundstoffen. Das Buch beginnt mit einer ... Mehr
Buch kaufen · E-Book (PDF) kaufen € 129,00
06/2019