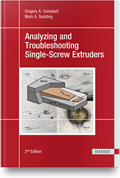 Analyzing and Troubleshooting Single-Screw Extruders

2. Auflage. Erscheint 12/2020
864 Seiten. Fester Einband
In full color
Buch: € 249,99
Buch vorbestellen ISBN: 978-1-56990-784-9
E-Book (PDF): € 199,99
Erscheint auch als E-Book ISBN: 978-1-56990-785-6
Prior extrusion books are based on barrel rotation physics—this is the first book that focuses on the actual physics of the process—screw rotation physics. In the first nine chapters, theories and math models are developed. Then, these models are used to solve actual commercial problems in the remainder of the book. Realistic case studies are presented that are unique in that they describe the problem as viewed by a typical plant engineer and provide the actual dimensions of the screws. Overall, there is not a book on the market with this level of detail and disclosure. The new knowledge in this book will be highly useful for production engineers, technical service engineers working with customers, consultants specializing in troubleshooting and process design, and process researchers and designers that are responsible for processes that running at maximum rates and maximum profitability.

The second edition is brought up to date with a significant amount of new content, as well as minor improvements and correction of errors throughout.The new content includes transfer lines, percolation theory, fillers, and several more case studies.
Gregory A. Campbell, Ph.D., is Chief Technical Officer at Castle Associates, Jonesport, ME. He was previously professor and departmental chair of chemical engineeering at Clarkson University, NY. He formerly directed a research group at GM Research and managed polymer fabrication at Mobil Chemical Research. He is a Fellow and former Extrusion Board Member of the Society of Plastics Engineers (SPE)

Mark Spalding, Ph.D., is a Fellow in the Materials & Parts Processing Group at The Dow Chemical Company, where he has worked since 1985. He has held a number of technical positions in Corporate R&D, Polystyrene R&D, Plastics R&D, and INCLOSIA* Solutions. He is a Fellow and an Honored Service Member of the Society of Plastics Engineers.
Empfehlungen der Redaktion:

Co-rotating twin-screw extruders are extensively used for the preparation, compounding, mixing, and processing of plastics, but also in other ... Mehr
Buch kaufen · E-Book (PDF) kaufen € 199,99
11/2020

This book shows the true and often-underestimated market potential of plastics recycling, with analysis from economic, ecological, and technical ... Mehr
Buch kaufen · E-Book (ePUB) kaufen € 79,99
09/2020

This book shows the true and often-underestimated market potential of plastics recycling, with analysis from economic, ecological, and technical ... Mehr
E-Book (PDF) kaufen € 64,99
09/2020