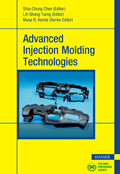 Advanced Injection Molding Technologies
Herausgegeben von Shia-Chung Chen, Lih-Sheng Turng

Erscheint 11/2020
448 Seiten.

E-Book (ePUB): € 159,99
ISBN: 978-1-56990-770-2
This book covers the most recent and important developments in advanced injection molding technologies, such as intelligent process control; technology innovations and computer simulation for emerging special injection molding processes like microinjection molding, microcellular injection molding, water-assisted foaming, water-assisted injection molding, and variable mold temperature technologies; conductive polymer foams and composites; injection molding of optical products; and an automated mold design navigation system with integrated knowledge management capability. It is intended to be used as a textbook for both introductory and advanced injection molding courses, as a must-have reference for professional engineers and engineering managers who want to keep abreast of the latest technological developments and applications, and in libraries to serve interested readers from both academic and industrial communities as well as the general public.
With chapters written by an international team of experts, this book provides a broad and insightful coverage, complementary to other books on injection molding.
Professor Shia-Chung Chen is currently the Vice Chancellor, Chief Executive Officer of Executive Operation Center for Industry-Academia Cooperation, and Professor at Chuang Yuan Christian University in Taiwan. He is also the President of Society of Advanced Molding Technology (SAMT). He received his Ph.D. degree in Materials Science from Northwestern University, USA. His research interests includes injection molding, dynamic mold temperature control, and PTFE membranes.

Professor Lih-Sheng (Tom) Turng is Co-Director of the Polymer Engineering Center at University of Wisconsin–Madison. He worked in industry developing advanced plastics processing simulation software and Knowledge Management System (KMS) for 10 years before joining the University of Wisconsin–Madison in 2000. He received his M.S. and Ph.D. degrees from Cornell University. His research encompasses novel injection molding processes, new materials, and advanced analysis on materials processing.
Empfehlungen der Redaktion:

Rubber Technology: Compounding and Testing for Performance is a practical guide to cost-effective formulating of rubber compounds to achieve ... Mehr
Buch kaufen · E-Book (PDF) kaufen € 249,99
10/2020

Dieser nützliche Leitfaden bietet einen praktischen Ansatz zur Herstellung von Carbon-Fasern und ihren Verbundstoffen. Das Buch beginnt mit einer ... Mehr
E-Book (ePUB) kaufen € 99,99
10/2020

This book provides a necessary bridge between the values of engineering end-use parameters of polyethylene resins and their scientific molecular ... Mehr
Buch kaufen · E-Book (ePUB) kaufen € 99,99
09/2020